What's new in V2.3?
Understanding how to build an app has never been easier with Shareable Apps. Now you can add another dimension to your Shareable App with these brand-spanking new features. Add and organise even more contact information, you can also be creative, think outside the square and choose the information you show off or turn off.
Sign up or log in to your account and take advantage of these new improvements today at no extra cost.
1. People & 2. Places*
You can now include a directory of people as well as locations in your Shareable App. Adding detailed information like images, position titles, biographies, even departments and rooms are all easily done.
These features are now accessed from the main menu in your dashboard. This means you can create people and places once, and add them to as many apps as you like, without having to re-create them every time you want to add them to a new app!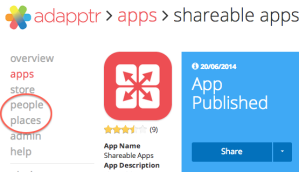 Dashboard
Click on Places in the main menu and enter address and contact information for each of your venues, locations, campuses, etc. You can also include opening hours and rooms within each place.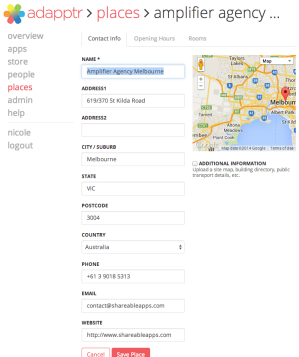 Now click on People in the main menu, and enter personal details for your staff, clients or contacts etc. You can now create job positions and departments to assign to them, as well as any previously created place.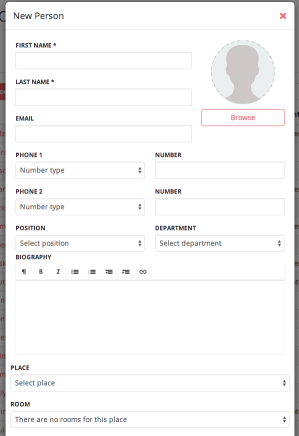 App Designer
After you're done, head over to the app designer, from the app dashboard. Click on Places (previously, Contact) or People tabs. Click the Manage button and tick all of the People or Places you want to add to your app from the pop-up list.
Places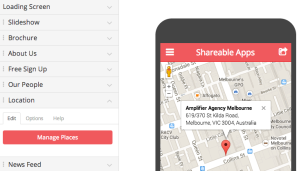 People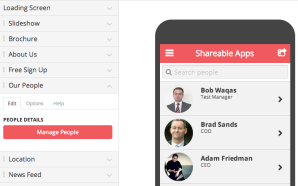 3. Linking Pages
The beauty of the Custom Page is that, unlike the other pre set menu items, it's a blank canvas for free form layout. The simple rich text editor with HTML and CSS capabilities, has now been upgraded, allowing you to link to external websites or other pages within the app.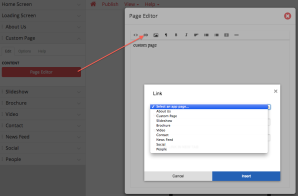 You can also now hide pages from the main slide out menu. This is really helpful if you'd like to keep the menu succinct but still be able to navigate to all of the content.
Visible in Menu
Invisible in Menu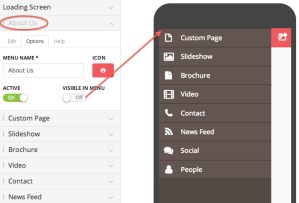 4. Deactivating Menu Items
If you don't require or have content secured for a menu item, simply deactivate it and it won't appear in the final app. You can always activate again once it's needed.
Active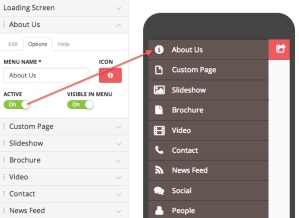 Inactive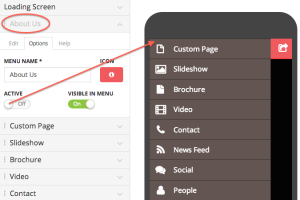 Sign up or Log in and get started now with these fab 4 features for yourself.
Here To Help
Don't forget, we're here to help you get the most out of your app. If you have any questions about building an app, app sharing and tracking or just want to give us some feedback, please feel free to email us at support@shareableapps.com.
---
[1] Existing customers: please note Contacts has now been split into two new features called People and Places in order to achieve greater functionality for your apps.